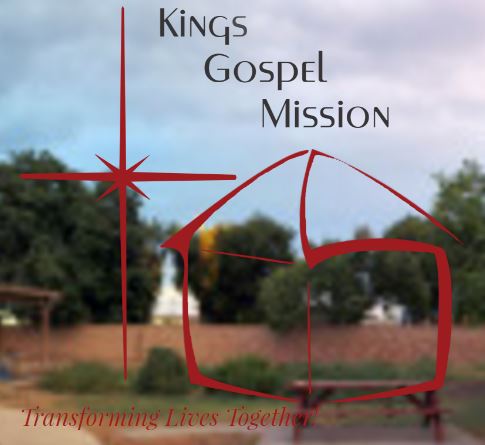 KINGS GOSPEL MISSION IS A 501(c)3 PUBLIC BENEFIT CORPORATION owned and operated by Cornerstone Community Alcohol and Other Drug Recovery Systems, inc..
We are proud and productive members of:
The Association of Gospel Rescue Missions
The Kings United Way
The Kings Partnership for Prevention
and mentored by the Fresno Rescue Mission.
Our Mission:
KINGS GOSPEL MISSION ASPIRES TO GLORIFY GOD BY SEEING LIVES TRANSFORMED BY THE REDEMPTIVE POWER OF CHRIST
Our Vision:
*Know and minister to people who are still on the street, by:
Partnering
Sheltering
* Administer the Life Transformation Program
Spiritual & Emotional Health
Life Readiness
Vocational Preparedness
* Independent Living with:
Fellowship
Mentorship
Giving-back
We Value:
* A Multi-Denominational Biblical Approach to Living out Christ's Great Commission.
* The Affirmation of an Individual's Total Worth
* A Focus on Modeling Christ-likeness in our Partnerships.
* Spiritual Growth in the Love of Christ for our Leadership Team, Residents, Staff & the Kings County Community.
Check out a great volunteering opportunity:
Help Provide a Night Off the Streets for Kings County Homeless
Local Volunteers Needed to Help Prepare Meals and Supervise Overnight
When Every night 6: 00 p.m. – 7:00 a.m.
Where Kings Gospel Mission, 805 W. 7th St., Hanford (1 block west of IHOP)
Why We have the opportunity to provide warm beds and meals for as many as 20 men.
"Whatever you did for the least of these brothers and sisters of mine, you did for me." (Matthew 25:40)
Who and What · People to prepare and serve dinner and breakfast for 20 (kitchen and menu available)
· People to supervise up to 10 homeless men in 4-hour shifts with another person
· Person to lead devotions
· Donations of toiletries, towels or funds
Also, check out their new recycling center to help end homelessness in Kings County:
Kings Cornerstone Recycling
13747 6th St., Unit C
Armona, CA 93202
559-415-6700
Kings Cornerstone Recycling is a recycling center that works with the Kings Gospel Mission, a nonprofit that provides assistance and a shelter for homeless men in Kings County. Kings Cornerstone Recycling doesn't just provide recycling services to the Armona community, but also provides job experience and ultimately paid employment for men going through Kings Gospel Mission's 9-month Life Transformation Program.
Kings Cornerstone Recycling accepts glass, cans, plastic bottles, bi-metal cans, and anything that has the California CRV symbol. It is faster to take caps off and separate recycling materials beforehand but you can also do it at the center.
Categories: Non-Profit Organizations